To commemorate the 90th Anniversary of Shawnee Lodge, we will be releasing a four part, special edition patch set over the course of the 2020-2021 years. The four part set will depict the Lodges history leading to the Shawnee Lodges 90th Anniversary service project at S-F Scout Ranch.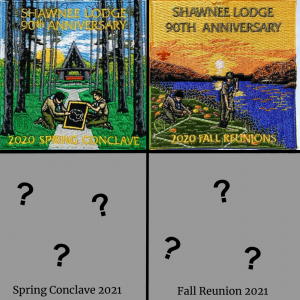 This project will consist of members of Shawnee Lodge designing, fundraising, and building an Adirondack Village at the S bar F Scout Ranch. The members of the Lodge will provide "sweat equity" in order to give a sense of Brotherhood, Cheerfulness, and Service among an overall sense of ownership in the project.
We plan to leave a physical and lasting project representing our lodge's tradition of service at that S bar F Scout Ranch. We will deliver a project to the Scouting community designed, funded, and built by the brothers of our lodge.
90th Anniversary Project Committee
Michael Colletti, Lodge Chief
Bob Veenstra, Lodge Advisor
Matthew Caldwell, Fundraising Chair
Bobby Kaye, Fundraisng Advisor
Colton Lutz, Project Planning Chair
Phil Combs, Project Planning Advisor